Hi, I'm Liv!
Think of me as your low maintenance friend! In the middle of getting married, raising babies, or whatever season of life you are in, the last thing you need is more drama. My hope is to give you a laid back experience where you can relax and feel free to be you!
I got into elopement and intimate wedding photography when someone asked me to shoot their friend's small wedding ceremony. At the time I was going to school for cinematography, but was not enjoying the "lights, camera, action" productiony side of it all. High production took me out of the story and I realized I was more interested in documenting people where they were at, rather than creating more fiction.
I quickly decided to stop continuing school and I jumped into business full time. I started shooting weddings right in the midst of covid and it really shifted my view of what a wedding day is about. As a covid bride myself, I embraced limitations and it brought me the most creative and meaningful intimate wedding I could have dreamed of. Intimacy, connection, and documentary are all at the heart of what I do.
Here are some things that bring my heart alive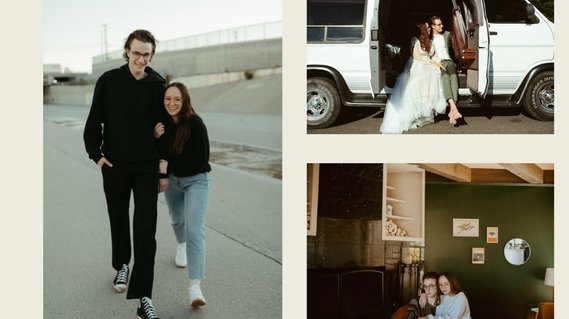 doing van life with my husband
My husband & I love traveling and we spent our first few months of marriage traveling through the pacific north west in our little van. We now live in an apartment, but we love getting to take Van-Go out for weekend trips here and there!
finding the cutest little airbnbs
I am a sucker for interior design & so naturally, I adore weekend getaways to the cutest little airbnbs. I've probably stayed in about 50+ different airbnbs and some of my best memories have been experiencing these unique stays, from glamping in tents, to staying in trailers, or just sweet little cabins in the mountains. I love a good change of scenery.
watching a good a24 film or documentary
Although film school wasn't for me, I still do love a good indie film. My husband and I have been to Sundance Film Festival the past two years and we even had a film premiere themed reception of our wedding video!
creating art and music
I love all avenues of creativity and like to keep a healthy practice of them throughout my life. I love painting, making little montages, and learning worship songs on the piano. I keep a pretty good rotation of creative endeavors in my life!